Leading Urban Environmental Activism
Environmental stewardship calls for everyone to be responsible for understanding how their actions affect the environment. We can all play a part to sustain and improve our environment and help our community thrive.
Talbot Norfolk Triangle (TNT) Eco-Innovation District
Launched in 2013, the Talbot Norfolk Triangle (TNT) Eco-Innovation District (EID) is the first Eco-District in Boston. A 13-block span of 280 homes serves as the locus of resources and approaches to neighborhood scale, environmentally-based stewardship, and strategies that help residents remain in place in the face of Boston's ongoing displacement crisis.
EID was born out of the Millennium Ten planning process that CSNDC helped lead in partnership with LISC-Boston's Resilient Communities/Resilient Families program. LISC, the Barr Foundation and the Natural Resources Defense Council (NRDC) were all interested in creating change on a neighborhood scale using sustainability as the focal point. The nationally-focused Eco Districts in Portland, Oregon, also sought to partner with the EID after it was up and running. The EID initiative layers existing and new programs to offer neighborhood water conservation, renewable and alternative energy, sustainable food systems, transit-oriented development, and climate preparedness strategies.
The EID has yielded many successes, demonstrating how residents in our community can benefit from such initiatives and thrive in a neighborhood where resources are scarce. These successes have included facilitating energy retrofits and solar installations on resident and CSNDC properties, installing rain gardens on bus shelter roofs adjacent to the Fairmount Line, training youth and men of color in arborist skills, planting almost 200 trees, shrubs, and bushes in resident yards and on CSNDC properties, installing rain barrels at EID resident homes, and implementing a Slow Streets plan for the neighborhood.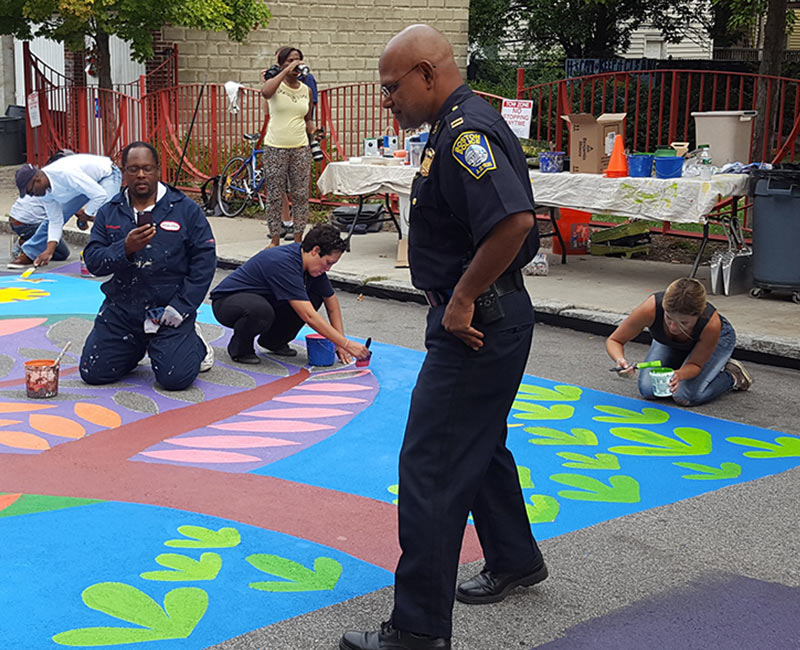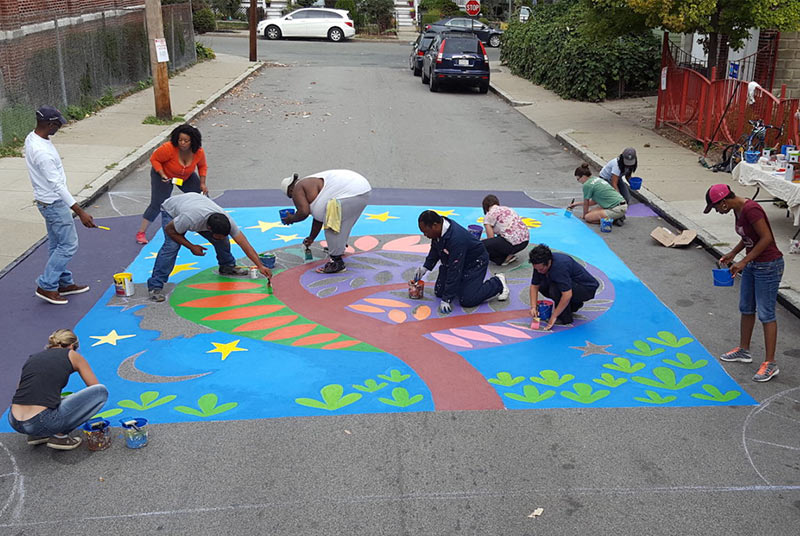 Green Infrastructure Certification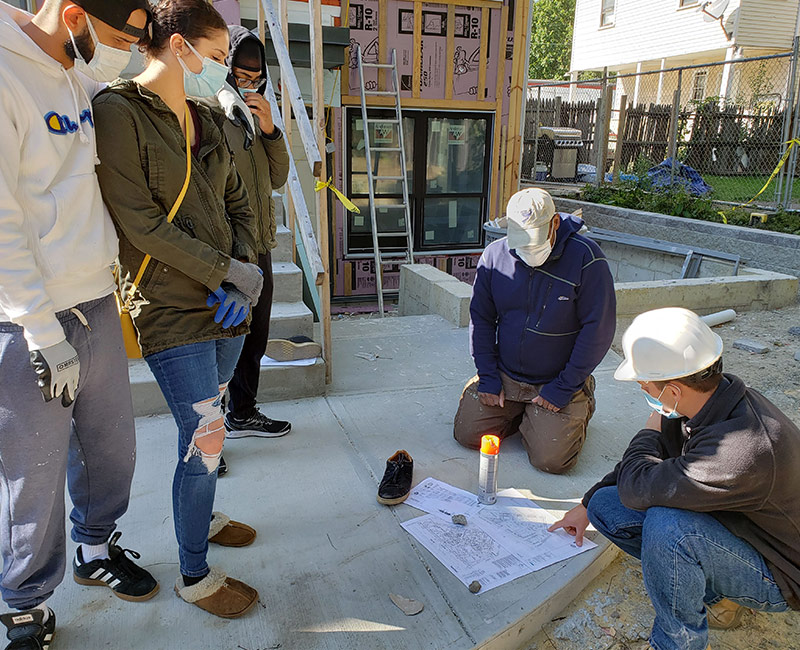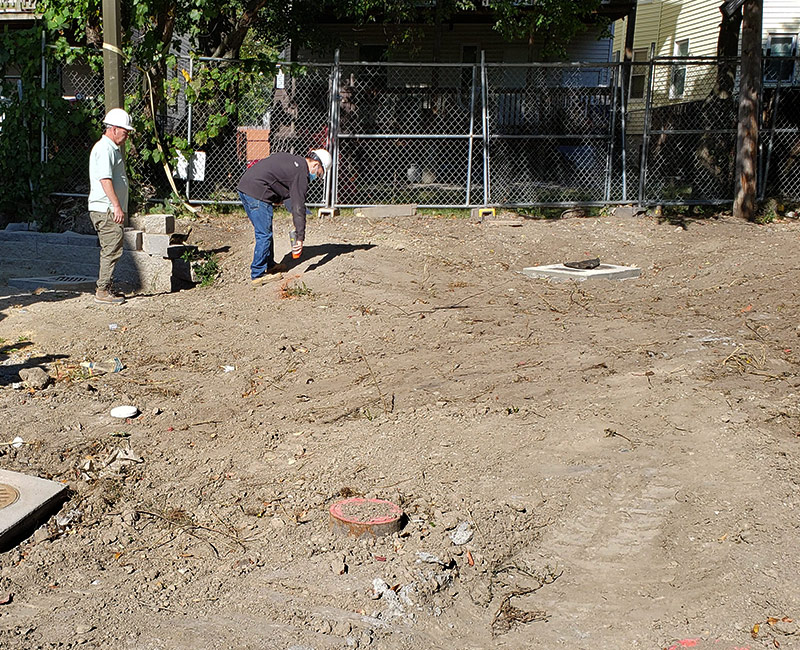 Under a consent decree with the EPA, the Boston Water and Sewer Commission (BWSC) is required to install green infrastructure (GI) in local parks and school properties, and in transportation and public works projects. The goal is to increase the amount of climate-related storm water that is returned to the water table instead of traveling through sewers, where it must be treated for the pollutants it picks up on streets and sidewalks. Returning the water to the water table before it enters the sewer system, where the cost of doing so is on residents, saves residents money and reduces sewer system maintenance and related costs, while also putting more water back into the water cycle.
BWSC estimates that it will take at least 30 years to complete all of the public capital project installations needed in Boston. A trained workforce will be needed to build, inspect and maintain both City and private projects to the new EPA standards. However, few contractors or city employees are specifically trained and certified in green infrastructure construction, maintenance and inspection techniques.
CSNDC staff are now certified to teach the National Green Infrastructure Certification Program, creating an opportunity for CSNDC to create a local job training and certification program that blends green infrastructure development and climate resilience. Our goal is to train and certify local residents, particularly men of color and re-entry citizens, in green infrastructure through a 35-hour class and exam that can help them become gainfully employed, while sustainably improving their neighborhood.
Certifying local residents helps them gain skills that can make them attractive to a number of types of employers, including contractors, green roof installers, and landscapers, while helping reduce neighborhood heat island effect and storm water issues.
OASIS (Opportunity Affirmation Sustainability Inspiration Success) on Ballou is an urban agriculture project that transforms long vacant land, unites community, provides healthy, affordable food, and creates employment and training opportunities. Located at 100 Ballou Avenue in the Woodrow-Mountain neighborhood of Dorchester on a long-neglected and vacant 20,000 square foot lot previously owned by the City of Boston, OASIS on Ballou incorporates urban agriculture with sustainable community development, social equity, and social entrepreneurship.
OASIS creates a community resource that promotes active living, improves resident health, and creates a safe place for community to learn and be exposed to sustainable urban farming. The initiative provides green job training, social enterprise economic opportunities, and enterprise management with special involvement of men of color. The site includes a production garden, a demonstration garden with accessible raised beds, and outdoor classroom space.
In 2019, we produced over 1,700 pounds of healthy, affordable produce for residents living in Codman Square and the surrounding community.
Fairmount Indigo CDC Collaborative (FICC)
CSNDC is one of three founding members of the Fairmount Indigo CDC Collaborative (FICC), which advocates for equity for the people living along the Fairmount Indigo Commuter Rail Line in Hyde Park, Mattapan, and Dorchester. The work we do across our communities is some of the city's most concentrated and effective action to combat gentrification and displacement. The reason?
The FICC is strengthening diverse neighborhoods as places of opportunity for low- and moderate-income and minority residents living near the Fairmount/Indigo Line. The Line has undergone $200 million improvement investments by the Massachusetts Bay Transportation Authority (MBTA), bringing 4 more transit stops to the communities of Roxbury, Dorchester and Mattapan. With about 50,000 of our collective residents living and working within walking distance to the rail stations, the Collaborative is creating new energy efficient housing (about 1,100 new units), initiating job-generating commercial development (over 200,000 sq ft), and assisting hundreds of small businesses. A Fairmount Greenway that follows the line is under development as a means of increasing and enhancing open space, "green streets" and improved access for bicycling and walking. Local residents and youth are playing leadership roles in all these efforts to improve environmental conditions and create more healthy neighborhoods within the Fairmount Corridor.
We continue to advocate, with our Fairmount CDC peers, and community residents, to bring increased transit equity to our community. In addition to the appropriation of $200 million and construction of 4 new stops, the Fairmount CDC Collaborative's work has resulted in Fairmount line fares being reduced to subway level fares, the introduction of Charlie Card usage on the Fairmount line, as well as free transfers to the subway and buses, and other improvements. We continue to advocate for more environmentally friendly technology on the line, as well as more frequent headways, so this line can become more of a rapid transit line.