"Most people don't realize how pavement and sidewalks interrupt the natural water cycle," says Dave Queeley, the Director of CSNDC's Green Infrastructure Certification Program.
"In the natural water cycle, rain falls to the ground, goes into the ground water, then comes back up through the roots of trees and plants and goes into the air as water vapor," Queeley explains. "The infrastructure in our cities interrupts all of that and the water gets sent down storm drains carrying pollutants."
This water must be treated before it is put back into the water cycle, an expensive and time-consuming process. Installing green infrastructure in local park, school, transportation and public works projects helps eliminate such pollutants because it increases the amount of climate-related storm water that is returned to the water table instead of traveling down storm drains.
"Instead of building more expensive systems to clean the water, green infrastructure is cheaper, looks nicer and has lots of co-benefits," says Queeley. "It's better to have plants and soils filter out the pollutants and return that water to the natural water cycle."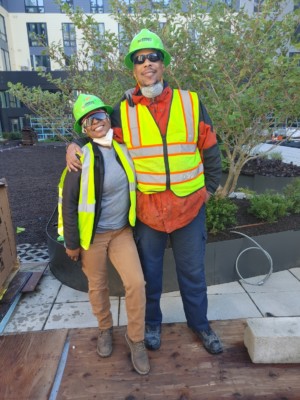 The Boston Water and Sewer Commission estimates that it will take at least 30 years to complete all the public green infrastructure projects needed in Boston. A trained workforce will be needed to build, inspect and maintain these projects to the new EPA standards. However, few contractors or city employees are specifically trained and certified in green infrastructure construction, maintenance and inspection techniques.
That's where CSNDC comes in.
Queeley and his CSNDC colleague, Danilo Morales, are now certified to teach the National Green Infrastructure Certification Program (NGICP) course. This enables CSNDC to create opportunities for local residents to become gainfully employed while contributing to the sustainability of their neighborhood.
The 35-hour course, which culminates in a certification exam, was first offered by CSNDC last fall. Two of its graduates, Mujihad Muhammad and Juliette Reid, were both recently hired by Recover Green Roofs, a Somerville-based company specializing in the design, installation, and maintenance of dynamic rooftop green spaces on residential, commercial, and institutional buildings in New England.
Mujihad Muhammad
Mujihad Muhammad's passion for green infrastructure dates back to when he was an applied physics major at Morehouse College in Atlanta.
"I had a professor that I got close with and he had me do a project on where spirituality and physics meet," Mujihad recalls. "Where they intersected for me was with green construction, being more conscious of how we build – because when we build, we're disrupting the natural environment."
Mujihad already had a background in construction from his teenage years when he and his brother worked with a family friend who was a general contractor.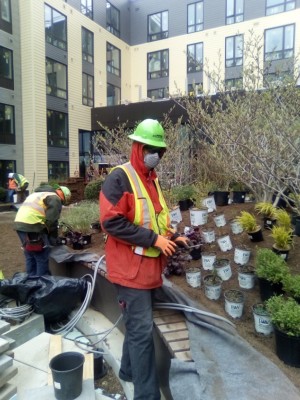 "We were like little apprentices, sweeping and cleaning up and doing little jobs," he remembers.
The spirituality piece comes from his family as well.
"I grew up in a Muslim household, so it had that spirituality and consciousness," he says. "All of that merged and intersected for me at green buildings. This opportunity with green infrastructure was kind of like me coming back full circle and aligning myself with that."
Mujihad had been living and working in Atlanta. But he lost his job "on the management side of construction" when COVID-19 struck and decided to transition back to Boston where he was raised to be closer to family and less isolated during the pandemic.
Soon thereafter, a friend mentioned CSNDC's NGICP certification training.
"I thought I might as well take advantage of this opportunity because it could possibly lead to a job, or I'll have credentials that I could use to apply for a job and see where I go from there," he says.
Mujihad took the course and passed the exam.
"I owe a lot of kudos to David and Danilo," he says. "I had some awareness of the building process and construction and some awareness of what green and sustainability were about, but green infrastructure was kind of new to me. The way they were able to deliver the information was very helpful and digestible and prepared me well for the exam."
In the meantime, Queeley had been in touch with prospective employers seeking candidates with green infrastructure experience. Recover Green Roofs replied that they had some openings.
Mujihad contacted them and after some back-and-forth about various opportunities, he was hired in late March.
"I wouldn't say it's easy work," he says, "but it's definitely something you have to be passionate about – passionate about improving the environment, passionate about sustainability, and passionate about how we can be more conscious of how we build and what we build and how this can help the environment and help us at the same time."
Juliette Reid
Juliette Reid brought a true passion for nature to her exploration of Green Infrastructure. Raised in London, and having frequently visited Boston as a child, she moved here as an adult to be close to her mother. Her previous work experience was about as far away from green infrastructure as one could imagine.
"I was an executive administrator, working for high-end corporate America," Juliette recalls.
Then in 2008, she was diagnosed with Crohn's Disease and began experienced chronic severe back pain related to the illness.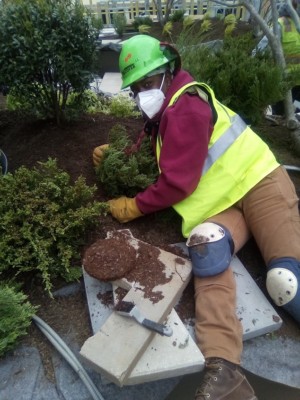 "I decided, as part of my healing process, to switch to being a sales associate, rather than going back into corporate," she says. "It was less sitting down and sitting down was the worst thing you could do when you had a back problem."
So, she spent a few years selling designer clothes for Lucky Brand, Ann Taylor and J. Crew. And she spent much of her free time retreating into nature and working with herbs as part of her healing process.
"I would go out for walks to exercise my back and I found different parks and forests, and that's when I started to get some real good healing," she recalls. "I love going out into nature, looking at ponds, the geese, the swans, the squirrels, and things like that."
Her efforts were successful. Thankfully, the Crohn's Disease is now in remission and the back issues have abated.
Then, in the summer of 2019, Juliette saw a flyer promoting a three-session program about green infrastructure offered by Earthwatch at the Franklin Park Zoo. There, she met Queeley and Morales from CSNDC, who contributed to the program.
"I was attracted to learn more about what's going on with the planet," she says. "I really liked the focus on green and conservation and efficiency and just understanding the land itself."
She was inspired by the program and soon realized this interest would change the direction of her career.
"It really resonated with me – and I wanted more," she says.
So, when she learned about the Green Infrastructure Certification Program offered by CSNDC last fall, it was a natural decision and she jumped at the chance.
After the course was complete, Juliette received the same notification Mujihad had seen from Dave Queeley about opportunities available at Recover Green Roofs and she expressed interest.
"At first, they took a look at my resume and said they didn't think I'd be the right fit for the job," she recalls. "But then Dave fought for me and he must have convinced them."
They asked her to join the team for a few "ride-along" days to see how she liked it. And then they offered her a job. Queeley is pleased he could help advocate for Juliette.
"I just said, look, she's the most enthusiastic person we've had," he recalls. "She's all in."
For her part, Juliette is thankful for Queeley's support.
"There's no way I would have gotten this job without this program and Dave's help," she says. "It was all new to me, but somehow it made sense and everything resonated."
"It's the best thing I've ever done and I love it," Juliette says. "And wherever I go now, when I see a puddle or I see a build-up of water on the ground, I realize, OK, something needs to be done here. Does it need to be supported somehow or does a catch-basin need to go there with an overflow pipe? I look at my environment in a whole different way now."
With a new offering of the CSNDC program beginning in July and another scheduled for the fall, Queeley believes the pipeline of opportunities for graduates of the program is only just beginning.
Brynn Bernheimer, Director of Operations and Finance for Recover Green Roofs, seems to agree.
"I don't think we would have found Mujihad and Juliette, if not for CSNDC," Bernheimer says. "And they are both proving to be not only stellar employees but incredible co-workers and team members; everyone loves working with them onsite, and we feel lucky to have them as the newest additions to the Recover crew. We're looking forward to the opportunity to recruit more of graduates of the Green Infrastructure Program!"
Share This Story, Choose Your Platform!