"I wouldn't be able to do it without her," says Yvette Modestin, CSNDC's Community Organizer.
The "it" she's referring to is CSNDC's monthly Sistas Circle, a community-based support group for Black women in the Codman Square area.
The "her" she's speaking of is Stephanie "Mini" Robinson, a volunteer who helps organize and facilitate the group.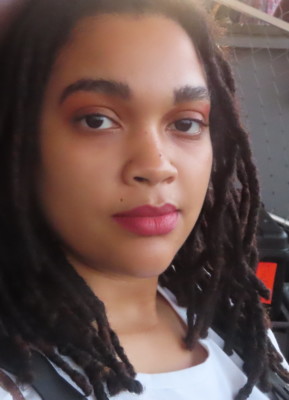 "Mini's energy and commitment help hold the group together," says Yvette. "She has really made this a priority and has been fully present in the development of the space."
Mini is currently a senior at UMass Boston, majoring in Africana Studies with a minor in Human Rights. She was raised in Codman Square by her mom, a single mother of three, until they could no longer afford the rent six years ago. Now, the family lives in Brockton.
Mini reflects on her childhood growing up in Codman Square with fondness.
"I remember going to the local laundromat on Sundays to wash our clothes as a family. We would grab snacks from the corner store to prepare to sit at the laundromat all day. It was nice to watch other women do the same with their children. We were strangers, but we were the same. We were connected to the same culture," she says.
That's why she decided to go to UMass Boston.
"I wanted to stay connected to that culture," she says. "Although I've learned to embrace Brockton, I don't identify with Brockton. Boston is home to me."
And that's ultimately what brought her back to Codman Square, where she met Yvette and started getting involved in Sistas Circle. She was working at the café where the group was meeting. First she became curious, then interested, then engaged.
"I asked Yvette if I could be a part of the group and help her," she recalls. "Sistas Circle gives me the chance to work and volunteer in Codman Square while finishing my undergraduate degree. Being a part of the culture means I am active in making a change in the community, while also monitoring the changes that happen to the people that are still there."
"I believe in the mission," she says. "Sista's Circle's mission is to give a space for women – like my mom – who are constantly on the go, who do not have time for themselves and their needs. This gives them a chance to find women who are like them."
Best of all, the work is reinforcing what Mini is learning is her studies.
"I've learned so much in school about the issues surrounding women and their rights, particularly Black women. I joined the group because there are not many spaces out there where Black women can come together to talk about their issues. You hear a lot about disenfranchisement of Black people as a whole, but often times the Black woman is neglected. Because they are often the caretakers, they often neglect themselves. The Circle gives space to those women so they can find self-care for themselves."
Yvette could not be happier to have Mini at her side.
"Mini is my co-facilitator.  She pulls it together with me.  She even designed our flyer," says Yvette. "It's been wonderful to have her because she's younger than me and she brings a different perspective. We're both in the community, but we're in very different spaces to a certain extent, and we've managed to really synchronize well and it's so easy with her."
Sistas Circle grew out of Daughters of the Dust, the Codman Square chapter of GirlTrek, a national movement to encourage Black women to walk together in their communities and inspire healthy living and families. When the cold winter months made walking impossible, the group moved into a café, and Sistas Circle was born. When COVID hit, the group continued unabated via a virtual platform – and is now engaging more than 20 women at each monthly meeting.
"We look forward to a time when we can meet again in person," says Yvette. But for now, she's glad to have a way to connect virtually, and happy to have Mini by her side.
For her part, Mini (who was so attached to her grandmother, Pearl, that her family called her "Mini Pearl" and the nickname stuck) now considers Yvette a mentor.
"That moves me very deeply," says Yvette, "because I can see her growth. I don't know if it has anything to do with me, but I've seen it. She is more of an introvert than an extrovert, so to see her willing to facilitate on her own and how she engages with the group has been wonderful."
After graduation, Mini plans to seek a graduate degree in clinical therapy, which seems quite fitting. But she is quick to add that "for sure, I will continue with the group and stay in Boston after graduation."
Yvette and the other members of the Sistas Circle are undoubtedly pleased to hear this.
Share This Story, Choose Your Platform!