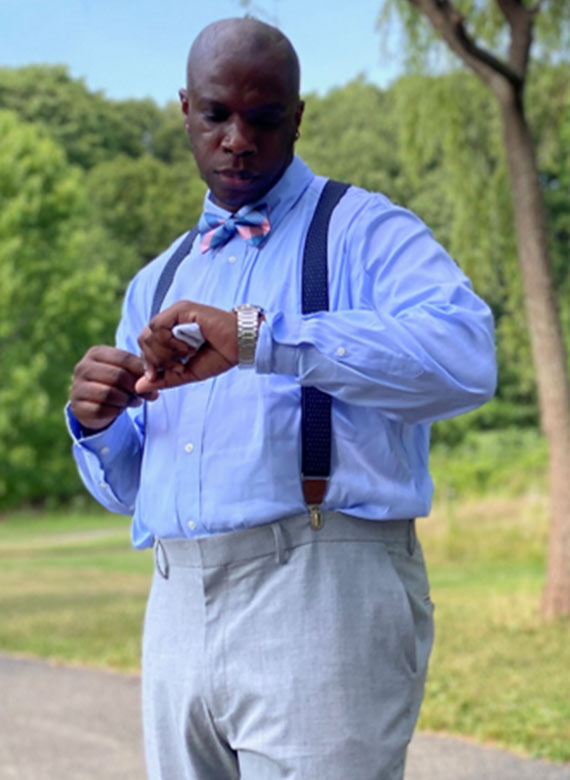 "My goal is to be a millionaire one day," says Demetres Rush.
It's an inspiring statement, given that Demetres spent 20 of his 42 years in an Illinois prison.
"I got introduced to financial literacy a little bit in prison and I have a real passion for it. I'm always reading and looking at information about financial literacy," he says.
When he was done serving his time in February 2019, Demetres moved in with his brother in Dedham who suggested he look into the STRIVE program in Codman Square.
That's where he met Keyna Samuel, CSNDC's financial specialist who helps teach the RI$E program (Reaching Independence through Self-Empowerment) to STRIVE participants. RI$E is a comprehensive course designed to help low- and moderate-income residents take control of their financial future by empowering them with the knowledge and skills necessary to navigate their finances, effectively manage their assets, and achieve and maintain economic independence.
It is exactly what Demetres needed to take his emerging passion for financial literacy to the next level and begin to get his financial future on solid footing.
This first step in this transformation was to address his credit issues.
"When Ms. Samuel ran our credit report, I was the only one in the class who didn't have any credit – since I'd been gone 20 years," Demetres recalls.  "Now my credit score is in the 730s."
How did he achieve this remarkable accomplishment in such a short time?
"I started with a secured credit card, which I bought for $49," he says. "I've had it 13 months now and I haven't missed one payment. I don't pay minimum payments – I pay the whole thing."
He started with a $200 limit, which has since been raised to $500, the highest allowable on a secured card.
"Then they offered me an unsecured credit card because I made my payments on time – and now I get rewards," he says. "I was primarily a debit card person before, but now I only use my debit card to pay the credit card off."
He also received an Employer Identification Number (EIN) for a small business he's pursuing and that allowed him to get a business credit card.
"I just got approved for a business card with a $5,000 limit and that's the most I've ever had on one credit card," he beams.
The second step has been building equity through investment.
"Mr. (Taron) Tibbs at STRIVE taught me about the stock market. He taught me that usually when there's some sort of turmoil or depression, the stocks go low and that's when you buy them. It's called 'Buying the Dip,'" he says. "I bought some shares at a place I used to work when it bottomed out at $1.20. It's at $18 or $19 now. I should have bought more and I'm kicking myself about that now."
He also learned from Ms. Samuel that online banks offer better interest rates than bricks-and-mortar banks.
Demetres has also transformed himself through education. He enrolled in Roxbury Community College (RCC) in September 2019, just seven months after he was released from prison. In his first year, he made the dean's list, won a poetry contest, and caught the attention of his English Studies professor for his thoughtful paper on the prison industrial complex.
"My goal is to get my associates degree from RCC and then go to a four-year college and then I'm trying to go to law school," he says.
For CSNDC's Samuel, Demetres' story is nothing short of inspirational. "I'm pleased to have played a part in helping Demetres get his life back on track after so many obstacles," she says.
But Demetres seems to take it all in stride. "I'm happy to do anything to help or inspire others," he says. "When you grow up poor and you've been going that long and you've got a little bit of drive in you, you've got to try to maximize how to not be in those positions anymore."
Share This Story, Choose Your Platform!