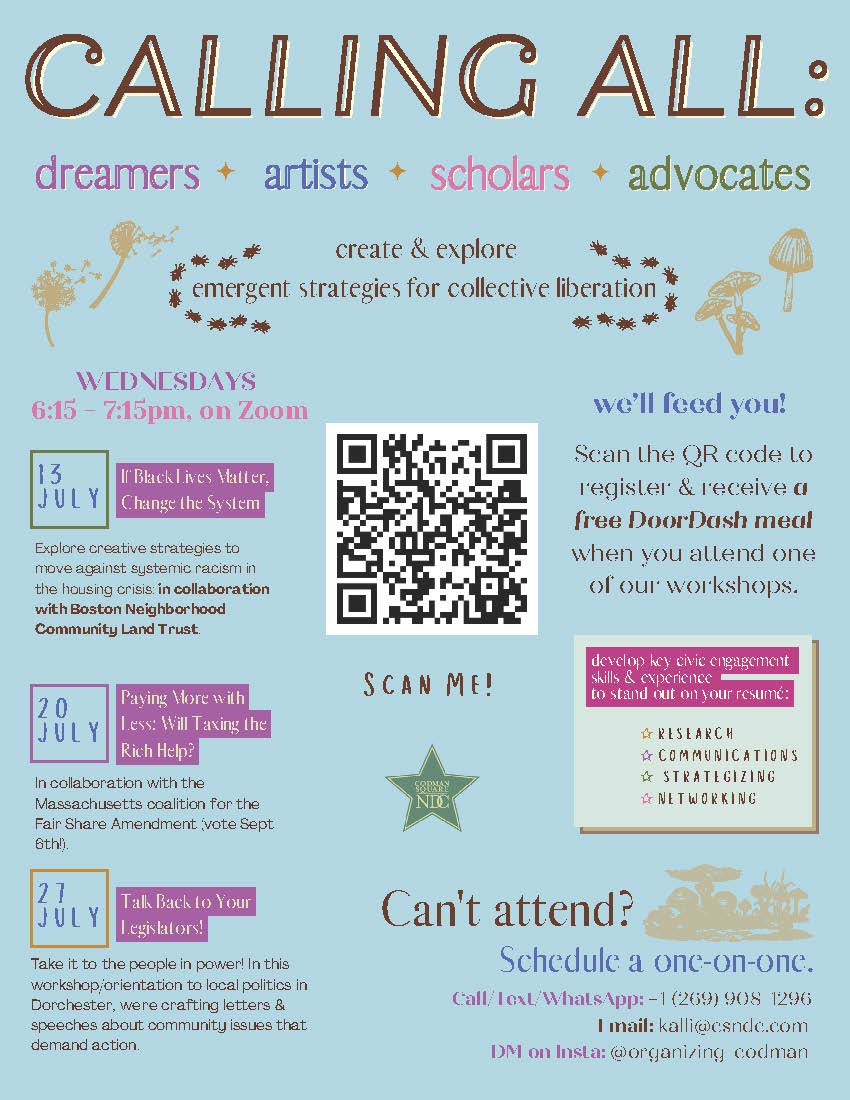 July Virtual Workshop Series
Beginning July 13th, to facilitate the acquisition of introductory-level civic engagement skills, with the hope of laying some groundwork for more résumé-transferable advocacy projects/experiences that residents (particularly young adults) can actively take part in shaping, we will be hosting a series of virtual workshops on Wednesdays.
Participants are provided food via DoorDash.
Virtual Meeting/Workshop Schedule: July 13th-27th
Wednesdays, at 6:15PM on Zoom
July 13th – If Black Lives Matter, Change the System
Let's be real about this housing crisis: systemic racism is at the heart of it. But how do we move from discussing change–to living it? And what would a "healed" economy look like for Black folks and people of color? Together, we'll explore pathways toward transformation–and how to advocate for the future we want.

In collaboration with the Boston Neighborhood Community Land Trust.
July 20th – Paying More with Less: Will Taxing the Rich Help?
After decades of prices being jacked up while pay stays the same, it's starting to feel like things aren't really trickling down. Let's discuss the movement for a millionaire's tax: what do rich people owe us? And why do we pay more of our income in taxes than they do? We'll learn who this amendment affects; why it's on the ballot; and when, how–or whether–to vote for it this year.

Massachusetts Campaign for the Fair Share Amendment
July 27th – Talk Back to Your Legislator!
Bring your ideas, questions, and, of course–soapboxes. In this workshop, we'll reflect on our concerns as a community, discuss the importance of local city & state politics, learn more about the officials who govern our area, and ultimately craft a speech demanding action. Together, we will be encouraged to actively email, call, and meet up with legislators to support causes that inspire.